Bank of England Leaves Interest Rate Steady but Stimulus Package is Boosted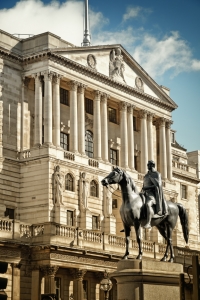 The Bank of England's Monetary Policy Committee (MPC) met for their November meeting to discuss the current economic situation within the UK. They sought to forecast what was ahead in which to determine what action should be taken to provide support for an economy impacted by a global pandemic. The meeting resulted in a unanimous vote among the nine members to provide £150bn in the quantitative easing bond buying programme as the winter pandemic wave takes hold and another lockdown goes into place across England.
The MPC left the standard base interest rate at 0.1%. The rate was set back in March when the pandemic's first wave took hold on the economy. It would become the lowest level for an interest rate in the Bank's 325 plus year history.
Purpose of the low interest rate was to push borrowing to a cheap and affordable rate to allow personal and business borrowing at a time when money was desperately needed by struggling households and businesses.
The Bank's governor, Andrew Bailey, assured that if further stimulus was needed to support the economy that it would be provided. Forecasting for the future was connected to vast uncertainty.
Mr. Bailey stated, "The committee does not intend to tighten monetary policy at least until there is clear evidence that significant progress is being made in eliminating spare capacity and achieving the 2% inflation target sustainably."
So far, the quantitative easing programme injected into Britain's economy totals £895 billion.
The second wave of the pandemic with another lockdown pushed the Bank to revisit their growth prediction. In August, a cautious growth of 5.5% for the final quarter of 2020 was forecasted as the economy showed signs of quick recovery. However, that has been adjusted to a decline of 2% for the last three months of the year.
In a comparison with last year, there had been an expectation of a decline of 9.5%, but again an adjustment to forecast was made with a deeper decline now expected at 11%.
Because the MPC left the standard base rate at the continued low interest rate of 0.1%, it is expected that the mortgage lending market will continue to provide an optimistic and positive opportunity for borrowers. Many are choosing to take advantage of the low interest mortgages to climb onto the property ladder or move home. Meanwhile, homeowners are seeking remortgages to secure a low interest rate as well.
Both home buyers and homeowners are motivated not only by cheap borrowing, but the opportunity to secure a new property to spend time at home more comfortably or to improve and upgrade the current property to better fit the new pandemic lifestyle. Mortgage and remortgage lenders and brokers are offering attractive low interest deals in which to make thriving during the pandemic a possibility.