Bank of England Warns of Harder Economic Times Ahead Due to Inflation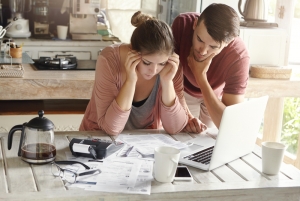 Inflation has been a main topic in the news since the end of last year. Now with the calendar narrowing in on the half-year marker of 2022, it would seem it should be less and less of a concern, but it is not. Inflation is on the path to 10% which means it will be five times the target rate of 2.0% set by the Bank of England. Warnings have come from the Bank's Governor Andrew Bailey that there are very real hardships in store in the months ahead.
Not only is inflation causing a hardship on household budgets, but there are warnings that food costs will rise to a level that could cause many to have to make difficult choices financially. Energy and fuel costs are also a worry as the winter ahead could be the most costly on record for consumers.
Inflation could also take a toll on businesses that are still in recovery mode after the lockdowns and slower sales due to the height of the pandemic. There have been warnings of possible jobless problems as businesses shutter their doors rather than endure financial burdens, supply chain issues, and the lack of sales due to consumers unable to buy as before.
Experts in the remortgage lending market are again encouraging homeowners to consider the option of remortgaging to perhaps build a financial safety net against the possibility of the dire warnings coming true.
As inflation grows, more interest rate hikes will likely occur. The last meeting of the Bank of England's Monetary Policy Committee (MPC), resulted in a 0.25% standard base interest rate increase to 1.0%. There were a few MPC members that sought a higher increase of 0.50%. The last four consecutive MPC gatherings have resulted in an interest rate hike and the next, which will be in June, could bring yet another one and perhaps a larger increment than those before.
Rising interest rates could bring financial shock to households not prepared. A remortgage could be one way to prepare.
Homeowners seeking a remortgage will likely not have a choice of the low interest rates they did when they last remortgaged or took out their first mortgage. Also, those that had their current mortgage term end and were moved to their lender's standard variable rate (SVR) are likely paying more than necessary as there could be remortgage offers with interest rates half that of a SVR.
By remortgaging, a homeowner could choose to lock in a deal such as with a fixed rate remortgage to escape any further interest rate hikes. It could offer not only savings, but peace of mind.
Some homeowners that are not even close to having their mortgage term end are choosing to pay a penalty fee to end their deal early. This allows them to choose from a remortgage deal available now rather than face higher interest rate choices in the future.
Shopping online offers a homeowner a quick and easy way to obtain remortgage quotes. A remortgage broker could offer many quotes from several lenders at one time to compare. The information could allow a homeowner to discover what deals, savings, and safety nets are available to best deal with the financial warnings of the months ahead.