Bank of Mum and Dad Busy as Ever as Children Seek to be Homeowners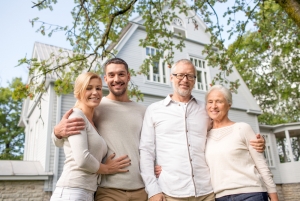 The current low interest rates, rising rental costs, and the impact of the pandemic have made for strong arguments to buy a home now rather than later. Yet hopeful home buyers are facing a major hurdle in climbing onto the property ladder due to record high asking prices. The lack of supply and strong demand is pushing prices upward and in many cases making homeownership out of reach of first time buyers.
For some it has led to their turning to their parents for financial help. The Bank of Mum and Dad has helped many home buyers be able to purchase their first home. Without their help, it has been said there would be little possibility of many being able to purchase a house at all.
Now that interest rates are expected to increase, the rush to buy is full on and according to a recent report the month of January has been one to put in the record book due to the strong activity in the housing market.
Some parents have chosen to cash out their built up equity in their own home through remortgaging and invest the money into their child or children's first homes. This isn't as clear a decision as it would seem as there could be risks involved in taking this strategy. Experts should be fully questioned and all alternative solutions should be explored before casually cashing out equity and handing it over to anyone, even a child.
There are many things that could make this a terrible idea, while for others it could be a safe and simple solution. It all depends on the situation of both the parents and the buyers, as well as the value and cost of the parent's home and remortgage deal.
There are still many government schemes available to first time buyers, and seeking financial advice from experts could be helpful. Not only would that be the case for the home buyers, but the remortgaging parents as well.
Remortgage brokers could be helpful as they not only work with many lenders at once, but know which lenders are willing to work with homeowners experiencing complicated remortgage needs. The broker could also have exclusive deals available that might end up being the perfect deal for the parents.
The Bank of Mum and Dad could be a quick, easy, and compassionate source to putting someone on the property ladder, but that shouldn't make it a rushed decision situation. Treating it like a real business deal and investment with clear discussion of expectations will help both parties, the buyers and the lenders, make smart decisions that won't cause problems later down the line.