Cost of Moving Home Increases and More Homeowners are Staying Put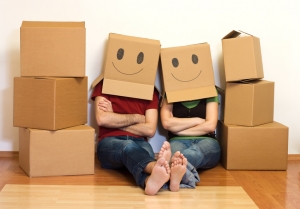 Homeowners are said to be staying put rather than moving home. The housing market is not seeing the normal of decades past where first time homeowners sold their starter home to other first time buyers as they upgraded. Thus putting the housing market into a constant move upward with buyers with growing families and then down again as they became empty nesters. Instead of moving, homeowners are staying where they are and some are choosing to upgrade the home they are in by turning their built up equity into cash through remortgaging.
According to a recent report from ReallyMoving, which included data from their annual survey, the cost of stamp duty, conveyancing fees, and removal costs have increased in comparison with last year. Stamp duty payments have risen by 4% to an average of £4,625. The average cost to a solicitor for conveyancing is up by 5% to £1,490. Removal charges can vary according to the contents of one's current home, the distance moved, and other factors, but those charges, too, increased in the last year by an average of £480 which is a 1% increase.
Rob Houghton, chief executive of ReallyMoving, remarked, "Homeowners are having to dig deeper than ever before to fund a home move, with upfront costs reaching another record high in 2019.
"Stamp duty charges may be fixed, but it is possible to make savings on other costs such as conveyancing, surveys and removals by shopping around online for the best deals and comparing ratings and reviews, as well as price."
With the uncertainty of Brexit, many homeowners that have been considering a move are likely more cautious. Whereas, those considering the opportunity to remortgage and staying put could discover savings and turn equity into cash which could if the homeowners desired fund a new kitchen remodel or upgrade other needs in the current home. Such a choice could be smarter considering the rise in costs overall for moving home.