Despite Pandemic UK House Prices Increased at Quickest Rate in Over Decade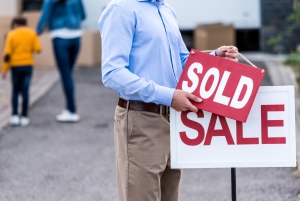 The pandemic was expected to cause problems across all sectors of the economy. However the housing market in the UK surprised even the most optimistic forecasters this year. Lockdowns created a new desire in the pandemic lifestyle for more space. Home buyers sought homes that had more space indoors and outdoors. The race for space produced an unexpected demand from buyers and the housing market grew at the fastest pace in almost a decade and a half.
Space for safely spending time outside for family and pets within restrictions pushed families to seek homes outside of the high population, more costly, and less spacious city life. Countryside living became the top priority on the want list of buyers. Not only were green spaces plentiful there, but it was more affordable to buy and offered homes with more space to allow working privately from home, space for children to study from home, and in some cases space to allow hobbies, fitness, and entertainment needs.
The interest in areas that had been neglected in the past years switched up the housing market. Buyers were buying more space instead of choosing smaller homes and flats. Private areas in the home were more desirable than open floor plans that had been the top trend. Country living was much more the choice of buyers than purchasing in convenient and energetic city areas.
The demand from buyers pushed UK house prices to grow by double digits in 2021 by more than 10%.
Nationwide recently released their data and revealed the average house price in the UK had reached another record high at £254,822 in December. House prices are 16% higher than they were when the pandemic took hold early last year.
December's annual growth rate of 10.4% is the largest increase since 2006. The highest annual growth this year was recorded in June at 13.4% which was the fastest growth since 2004.
Historically low interest rates helped motivate buyers to seek out their pandemic lifestyle dream home. The first interest rate increase in December bringing the over 300 year lowest rate set by the Bank of England upward from 0.1% to 0.25% is expected to put those that had been waiting out the market to take action.
Homeowners seeking to sell at the current higher asking prices could be more determined to put their property on the market before increased interest rates dampen demand. Buyers could be more motivated to buy at cheaper borrowing rates before another interest rate hike occurs.
Therefore, while a slowing down of the market is expected, there could be continued strong demand even if there are warnings of another rate hike in February when the Monetary Policy Committee (MPC) meets again.
Currently interest rates are still very attractive for those looking to borrow cheaply. Home buyers are not the only ones taking advantage of the opportunity as homeowners are discovering substantial savings through remortgaging. No one should pay more than necessary when there are low interest rates available and expectations are that interest rates could be increased many times next year to control growing inflation.
The UK housing market has been resilient through the year despite impacts to the economy from Covid-19. There are unknowns that could alter predictions and forecasts for the market next year, but the knowns are that interest rates are still quite low, supply is down, and demand is likely to remain strong. The housing market might not be as robust next year, but growth is likely and again, it might surprise once more as to the desires of home buyers looking to make the most of their lives despite the pandemic.