First Time Buyers Surged into the Housing Market Last Year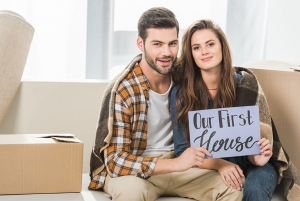 UK first time home buyers took advantage of the opportunities available to them in 2021 from low historic level interest rates to the stamp duty holiday and boosted sales to first time homeowners to the highest level in almost twenty years. According to data released by the Yorkshire Building Society, the number of sales to first time home buyers increased by 35% in the past year. Not since 2002 has there been such a strong showing in the housing market of first time buyers, which is estimated to be 408,300 for 2021.
Despite the ability to save with the stamp duty holiday and obtain a low interest rate mortgage, there was a hurdle presented to first time buyers. Asking prices in the market were growing rapidly and breaking highs month after month as demand grew and supply dwindled.
The rush to buy was brought on by a few unique situations in the market. The strongest demand was spurred by the Race for Space. This is the term dubbed for the strong desire among hopeful home buyers for more space during the pandemic in which to work, study, get fit, and entertain within the home due to lockdowns.
The ability to borrow cheaply thanks to low interest rates motivated buyers to take action, as well as the savings from the stamp duty holiday. Specific boosts occurred in the market as the stamp duty holiday was due to expire in March 2021, but it was extended to reduce at the end of June and completely expire the end of September. As each of those deadlines approached, buyers intent on taking advantage of the opportunity did so alongside many others.
Each boost during last year took a toll on the supply of available homes on the market, especially starter homes. With first time buyers flooding the market and fewer starter homes to choose from, prices surged. It deterred very few and while buyers paid more overall, they were able to secure low interest rates and save on purchasing taxes.
Another strong wave of buying could be occurring currently as home buyers seek to complete their purchase before interest rates increase.
The Bank of England's Monetary Policy Committee (MPC) increased the historic low interest rate for the first time in three years in December. Due to rising inflation, another increase could be on the horizon. Rather than face a more expensive interest rate, buyers could seek to escape the rising cost and buy sooner rather than later.
Some first time buyers have already become remortgaging homeowners. Rather than allow their mortgage term to expire and have to face higher interest rates at that time, they have chosen to pay penalty fees for ending their term early for the ability to secure a fixed rate low interest rate that will carry them past the expected increases over a brand new term.
The coming year ahead is expected to be another of growth in the housing market, but again, as supply dwindles with strong demand from buyers, prices will rise. Increased costs in the housing market could start shutting out buyers, and those will likely be first time buyers more than home movers. Of course, last year was hard to forecast and with continued strong desire for more space while the pandemic refuses to loosen its grip on our lives, the housing market could likely offer us more surprises.