Happy Halloween If You Have a Haunted House It Could Be More Valuable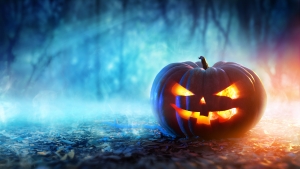 It's Halloween and everyone is focused on scary films, costume choices, and all that is spooky and fun that comes with the holiday. It certainly is a refreshing focus than what 31 October has been associated with lately. Halloween has become less of a holiday for the young and young at heart and more of a political date on the calendar with the Brexit deadline marked there for months. For fun homeowners can shift their focus from whether a deal or no deal Brexit will impact their property value and question instead if perhaps they could make the most out of any ghostly hauntings.
Halifax released a study as to how a home was impacted if it was labeled as being located near a haunted property. The result was that in their study of homes near areas known for being haunted and spooky an increase in value was experienced over the past ten years for many.
Examples shared were homes near York's Treasures House which is said to be haunted by Roman Soldiers and those near Ham House in Richmond where numerous haunted sightings have been reported. Those near York's Treasure House have grown in value over the past ten years by 150% from an average of £203,348 in 2009, to £508,003 in 2019. Those near Ham House saw an increase from 2009 to 2019 of 97%.
King Henry VIII is said to frequently haunt the Hampton Court Palace and house prices near there have increased over the past ten years by 72%. Those seeking a home in this haunted area might be inspired to know that not only has the King's ghost been sighted but those of a few of his Queen wives as well.
The largest increase in the past decade was at 153% near Baddesley Clinton, a 500 year old estate near Solihull where the "Lady in Grey" ghost is known to haunt. There the average increase was 153%.
Halifax reported on other known haunted locations such as Dover Castle, Dunster Castle, Borley Rectory, Jamaica Inn, Woodchester Mansion, the Tower of London, and Speke Hall which failed to show they had experienced the haunted boost to values shown elsewhere. Especially Speke Hall in Liverpool, the known location for the ghostly sightings of Lady Mary and her infant son, which came in at the least expensive increase of values of properties near haunted sites.
Russell Galley, Managing Director with Halifax, remarked on the haunted report saying, "While our investigations show house prices near many of the nation's haunted houses have benefited from a rise, it's certainly not something we should lose our heads over. With a wealth of rich – and macabre – history, residents in these ghoulish areas have plenty of options when it comes to Halloween horrors.
"If you're interested in purchasing a property in one of these terrifying towns, you'll get more for your money in Liverpool or Preston, compared to more expensive areas such as York or Solihull."