Homeowners Warned an Increase in Interest Rates Could Strain Their Budget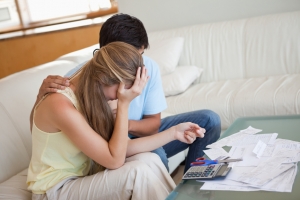 When it comes to borrowing, it is all about the interest rate. Though there are other costs that could be involved in borrowing, especially with property in which there can be valuation and legal costs, the interest rate takes full center spot in shopping for the best loan. The interest rate determines the cost of borrowing. The lower the rate the cheaper the cost, and the higher the rate the more the borrower will pay.
For many years, borrowers in the UK have been able to shop for loans with low interest rates. In the past months, the Bank of England's standard base rate had been at an all-time 300 plus year historic low of 0.1%. In December, in response to a quickly rising inflation rate, the Bank of England's rate setters, the Monetary Policy Committee (MPC), raised the rate to 0.25%. This was the first increase in three years.
Inflation has continued to grow and at rate higher than expected. The Bank of England's target inflation rate is 2.0%. The latest data revealed the inflation level had increased to an annual high of 5.4%. This is the highest since March 1992. It is an increase over the 5.1% level recorded in November, which was the highest in a decade.
The current level of 5.4% was higher than an expected poll by Reuters that had forecasted an increase level of 5.2% by experts.
The surprising inflation level will have the MPC deeply concerned. It could very well trigger yet another interest rate increase at the 3 February meeting. Since there was no meeting in January, it would be back to back interest rate hikes by the MPC should they indeed vote by majority to raise the standard base rate again.
Many expect that it will be necessary to slow down the inflation rate despite concerns that it could put household budgets in jeopardy that are already strained by the pandemic. Those that have grown accustomed to low interest rate levels over the past years could be caught off guard when facing a more expensive cost due to a higher interest rate level.
This is why experts are encouraging homeowners to consider a remortgage. By securing a low fixed interest rate remortgage, the homeowner could perhaps save money by finding a lower rate while they are available, and avoid paying higher rates if the MPC takes action as most expect they will. If February sees an increase in the standard base rate, it is not assured it will be the last for the year. Experts have warned there could be more increases in the future due to inflation.
There is not much time left before the next MPC meeting. Shopping now and taking action could be a smart strategy, rather than waiting and then being pressured to rush to remortgage. Should the strong demand appear for remortgaging as is expected, it could take more time to complete the process. Time therefore is of the essence for those not wanting to be pressured to avoid paying on a higher rate.
Homeowners that have had their mortgage deal end and chose not to remortgage but allow their lender to move them to the lender's standard variable rate (SVR) are at the most risk of being caught off guard by a higher monthly repayment amount.
Shopping with lenders online for a remortgage is a quick and easy way to determine what deals and savings are available. The option to shop many lenders at one time is available by getting quotes from a remortgage broker. Not only do they work with many lenders, but they also could have exclusive deals available.
The wait and see approach has been working for many these past few years as interest rates remained low, lenders were competitive, and few warnings of rate hikes were issued. The rate hike in December caught many by surprise, as it was expected there could be an increase in early 2022, but instead it happened earlier. Those that take action to remortgage sooner rather than later could be the ones that benefit from deals of today with low interest rates. The ones who wait are likely to miss out and have to choose from higher rates and pay more and that could be only weeks away.