Housing Market Cools Slightly as Interest Rates Rise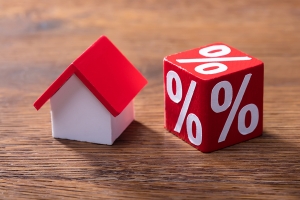 The UK housing market could be experiencing the cooling down experts predicted when the Bank of England's Monetary Policy Committee (MPC) first began increasing the standard base rate. Since December last year, the MPC has met six times and during each meeting the rate has been hiked. It now sits at 1.75% after a 0.5% increase last week, the largest increase in 27 years. Due to the increase in interest rate offers with mortgages, home buyers could be turning their attention away from the market, but just as many could be having issues with affordability.
Halifax reported a slight loss of momentum in July. The average house price was £293,221 which was a decline of 0.1% from June. It is the first recorded decline this year and the first since June of last year.
The housing market is not buyer friendly with higher interest rates, fewer mortgage product offers from lenders, and an average house price that is more than £30,000 higher than the market offered last year.
In response to the July data, Russell Galley, managing director of Halifax, remarked, "While we shouldn't read too much into any single month, especially as the fall is only fractional, a slowdown in annual house price growth has been expected for some time."
"Leading indicators of the housing market have recently shown a softening of activity, while rising borrowing costs are adding to the squeeze on household budgets."
Mr. Galley added, "Looking ahead, house prices are likely to come under more pressure as those market tailwinds fade further and the headwinds of rising interest rates and increased living costs take a firmer hold. Therefore, a slowing of annual house price inflation still seems the most likely scenario."
The current Bank rate is not only having an impact on the behavior of home buyers, but homeowners as well. Higher interest rates are motivating property owners to seek remortgages, especially fixed rate remortgages to avoid further rate hikes. The current standard base rate of 1.75% is a 13-year high which means a homeowner coming to the end of their mortgage term is likely to have had a lower rate than what they will be able to choose from with a remortgage. However, a remortgage would still likely offer a much lower interest rate than would be found with a standard variable rate (SVR).
Homeowners that allowed their mortgage term to end without a remortgage and have been moved to their lender's SVR are encouraged to shop for a deal and consider a fixed rate remortgage. It could offer not only savings now, but also savings against further rate increases. Of course, any homeowner is encouraged to shop for a remortgage to determine what possible benefits and opportunities are available.
Shopping online is fast and easy. Within minutes, a homeowner could have a quote in hand to review. Visiting an online remortgage broker website could offer many quotes from various lenders in which to review. Also, brokers could have exclusive deals from lenders worth considering.
The housing market is expected to cool down, but there might be small boosts to the market yet to come. When asking prices begin to decline as demand drops, it could bring attention back to the market. There could also be government schemes offered to bring first time home buyers back to the market. There is also the seasonal end of summer boost that could occur. Another possibility could see hopeful home buyers motivated by aggressive sellers seeking to take advantage of the current market rather than face less demand weeks or months ahead.
The housing market is probably going to experience some ups and downs before it faces a steady and slow decline say some experts. Of course, the housing market has remained resilient in times when many expected the worse.
Inflation is due to reach over 13% by the end of the year, and such a forecast will likely result in more interest rate hikes in the months ahead. The next meeting of the MPC is 15 September. It will be interesting to see how home buyers respond to further tightening to their buying budget from the most recent rate hike as well as inflation.