Housing Market Five Year Forecast Positive Despite Rising Interest Rates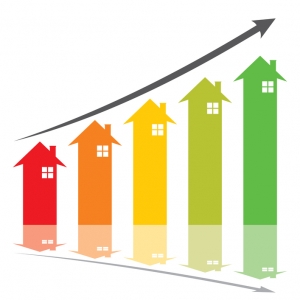 The forecast for the Bank of England's standard base rate is for interest rate increases in 2022. Emphasis is on the plural of increase as there are expected to be a few of them. In fact, one report has forecasted many increases in 2022 and continued increases over the next five years. With rising interest rates there is an expectation of a slowdown in the housing market. Making borrowing more expensive is likely to put some home buyers out of reach of the property ladder and discourage many from taking on an expensive mortgage debt.
However, the outlook for the housing market next year is positive. According to Savills, the UK average house price is expected to grow by 3.5% through next year revealing a continued demand from home buyers and home movers.
There are many that believe that the demand in the housing market could be slowed down not only by rising interest rates, but also due to a shortage of properties coming onto the market. Low supply will continue to push asking prices upward and homes could become out of reach of first time buyers. Higher borrowing costs and fewer choices of properties at affordable pricing in the housing market could indeed slow down the volume of purchases while demand remains.
The Savills report forecasted a 3.0% increase for 2023, a 2.5% increase in 2024, 2.0% in 2025, and 1.5% in 2026. The five-year forecast therefore would suggest a 13.1% overall growth by 2026. This could be considered impressive if not for the fact that it is less than what has been experienced in the last 16 months during the pandemic.
Lucian Cook, head of residential research at Savills, remarked, "After such intensity in the market and without the imperative of a stamp duty holiday, we know that there'll be less urgency in the market from 2022. Indeed, we have already seen three-month on three-month house price growth slip back from 3.9 per cent at the end of June to 1.7 per cent at the end of September.
"With the prospect of inflationary pressures persisting into next year, bringing forward the first anticipated interest rate rise, we expect price growth in the near term to be somewhat more muted than we have seen of late."
Cook added, "With gradual interest rate rises expected, we expect the mortgage regulation introduced back in 2014 to show its hand more clearly over the next five years. Stress testing of affordability has meant that existing borrowers are unlikely to get into financial trouble as rates creep up.
"But it will cap how much new buyers can borrow relative to their income in a higher interest rate environment, acting as a drag on both prospective price growth and market activity over our forecast period."