Housing Market Outlook is Positive for Next Year but New Omicron Variant is an Unknown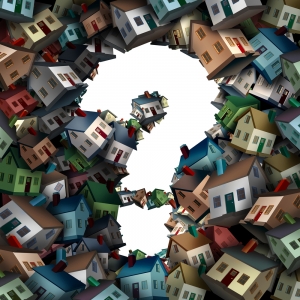 The housing market has continued throughout 2021 to surprise even the most optimistic forecasters. Not only has low interest rates helped to motivate home buyers, as well as the now ended stamp duty holiday, but the pandemic actually spurred buyers into the market. Lockdowns caused by the pandemic had renters and homeowners reevaluating their homes. Most were left wanting more space, not only inside the home but outside as well where families and pets could easily spend time safely outdoors. The desire for space spurred the drive to buy and was dubbed the race for space.
Home dwellers needed more space to work from home, to get fit, to entertain within the home, and there was a need for space for children to study and play.
Homeowners became home movers and that helped put starter homes into the market for first time buyers. The buyers sought a home rather than rent, especially to have space and escape the more crowded areas of the city. Country living with more space within the home and green spaces around homes became the most desirable area to buy. The pandemic resulted in boosting the housing market as a new lifestyle took hold.
Many homeowners chose to move, but there were many that stayed put due to the low interest rate remortgages available. Homeowners are still finding savings with low interest remortgages and as more come to the end of their mortgage terms it is expected that the demand in remortgages will stay strong.
However, with fewer home movers the number of properties coming onto the market has slowed. The demand for property from buyers remains strong and with fewer available homes for purchase asking prices are rising.
The concern about rising asking prices is that many first time buyers are being shut out of the market. They are finding it hard to discover a home they can afford despite the continued low interest rates.
Experts do believe that there will be continued demand and that asking prices will be accepted as long as interest rates remain at their historical low levels from lenders. Yet, if the Bank of England does increase rates, as is expected in the first half of next year, it could cause a slowdown in the housing market.
The new Omicron variant of Covid-19 is still an unknown factor in the housing market. It could cause a continued strong demand if fears grow of more restrictions, or a boost to the market simply as more choose to buy into the pandemic lifestyle of needing more space, or it could have very little impact at all.
Currently many are forecasting continued growth throughout 2022 and that will be good news for the economy as well as homeowners as they will continue realize growth in their home values.