July House Prices Report Reveals Decrease for First Time This Year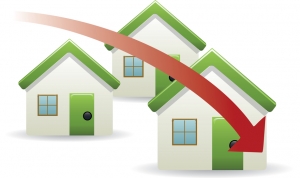 UK's largest lender, Halifax, has issued a report showing house prices declined for the first time this year in July. The decline fell by 0.1% from June to July. The last decline in house prices was reported last year in June. Some experts believe that the decline could be the usual summer dip as home buyers put their attention elsewhere. However, it is difficult to overlook that it could be the start of further declines in the market as affordability becomes an issue due to higher interest rates and the impact of inflation.
The standard base interest rate set by the Bank of England's Monetary Policy Committee (MPC) was at an all-time historic low last year of 0.1%. In December, the first MPC increase in the rate occurred and through each consecutive meeting held including the one this month there have been six increases. The August meeting resulted in an increase of 0.50% pushing the base rate to 1.75%. It was the highest increase made by the MPC in 27 years.
Halifax reported the average price of a home in the UK in July was £293,221.
While there was a decline in the house price, it is still £30,000 higher than last summer.
With house prices breaking records throughout the height of the pandemic and still remaining, along with higher interest rates, home buyers could be experiencing affordability issues as well as losing confidence in their ambitions to buy during the current economic environment. There have been reports of a slowdown in home movers and first-time buyers showing interest in the market.
Russell Galley, Halifax managing director, remarked, "While we shouldn't read too much into any single month, especially as the fall is only fractional, a slowdown in annual house price growth has been expected for some time.
"Leading indicators of the housing market have recently shown a softening of activity, while rising borrowing costs are adding to the squeeze on household budgets."
The next meeting of the MPC, which could result in yet another increase of the standard base rate, will be 15 September. There is not a scheduled meeting for October, therefore the MPC could determine another large increase like the one in August is warranted to take an aggressive move against inflation. The Bank has increased the forecast for inflation from 11.0% to 13% as well as a recession lasting through five quarters starting at the end of this year.
Hopeful home buyers, and even homeowners seeking remortgages to escape higher interest rates, could show up with strong demand in the coming months if they see a new normal setting in of higher interest rates. Rather than pay more, they will seek out mortgage and remortgage offers of today, and if so, the housing market could see a bump upward just when the expectation is a cool down.