Less Than Two Weeks MPC Could Push Interest Rate to Level Not Seen in Generations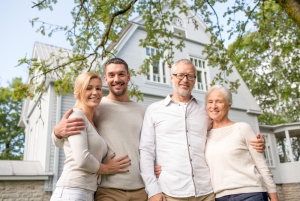 Rising interest rates are a concern to borrowers, especially home buyers and homeowners. The level of increases has been fast and aggressive in an effort to thwart inflation in the UK. The Bank of England's Monetary Policy Committee (MPC) has increased the standard base rate at each of the last six consecutive meetings. The first increase resulted from the December 2021 MPC meeting which ended the long standing historically low rate of 0.1%. In over 300 years there had not been a lower rate, and in six meetings the rate is now at the most expensive level for borrowers in decades.
The inflation level for July was reported at a 40 year high of 10.1%. The forecast from the Bank is for it to reach 13% by October. Control of inflation growth might not occur until late next year, and that could mean there are many more interest rate hikes yet to be made.
Home buyers are facing higher rates, higher house prices, and inflation. The ability to afford not only a deposit, but also the repayments with higher borrowing costs is likely going to be difficult for many, especially first-time buyers. There is a strong expectation that due to affordability home buyers will begin to exit the market. However, currently the housing market has exhibited resilience as buyers are thought to be making purchases before the rates become even higher.
Homeowners, meanwhile, are showing strong demand for remortgages. It could come as a shock for those that are nearing the end of their current mortgage to face the interest rate choices now offered by lenders. They are certainly not near the lows seen at the start of pandemic lockdowns, or the months that followed. Even before the pandemic, rates offered were lower than those currently on the market.
The reality is that new homeowners, and generations beyond might be facing rates higher than they have ever paid. Only those homeowners from before the economic crisis will have faced the interest rates that could be offered by the end of the year or early 2023.
In an effort to avoid paying more than necessary, homeowners are not as likely to allow their mortgage term to end and skip a remortgage. Without a remortgage, when the mortgage term ends, a homeowner is moved to the lender's standard variable rate (SVR). It is considered a risky, and expensive choice to remain on a SVR when rates are rising, especially as they have been of late.
The August meeting of the MPC resulted in the highest increase in almost 30 years. Rather than the 0.25% increases seen throughout 2022 meetings, the latest was an increase of 0.50% which took the current rate to 1.75%. If that happens again, the rate will top 2.0% to 2.25%. Of course, lender offers will be higher than the Bank's base rate, and the choices could be many times higher than what homeowners are used to paying, especially if the homeowner's loan has been moved to the lender's SVR.
It has been reported that a current SVR could be double or more that found with a remortgage. Not only could a remortgage offer savings now, but savings against further increases should the homeowner secure a fixed rate remortgage.
Experts are encouraging all homeowners to shop for a remortgage, not only those that have had their mortgage term end, but those nearing the end and even those not so close. In fact, some homeowners have taken a strategy to pay a penalty fee to end their terms early to allow them to remortgage now versus later when rates could be much higher.
Following the advice of experts is easy. In a matter of minutes while remortgage shopping online, a homeowner could have remortgage quotes in hand for review. It requires only going from the website of lenders to another and obtaining quotes, or one stop shopping with a remortgage broker which could offer many quotes from various lenders in which to compare.
Remortgage brokers could also possibly offer exclusive lender deals not offered directly to borrowers.
The warnings of higher borrowing costs due to rising interest rates are not to be ignored. Household budgets are already dealing with warnings of further inflation increases and unprecedented energy costs this winter. There could certainly be an opportunity to perhaps find relief through remortgaging. Maybe even peace of mind as well as warnings continue concerning the economy. Discovering what remortgage opportunities and benefits are available begins with quotes and the ability to shop is at one's fingertips online.
The next possibility of the MPC raising the standard base rate is only days away at the next scheduled meeting set for 15 September.