Mortgages Built for More than Two Increase in Popularity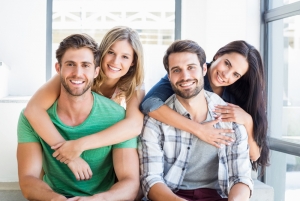 House price growth over the past decade has placed a premium on getting what is paid for within the housing market. This would be quite an issue for those purchasing their first home, but the increase in prices has unfortunately prohibited that from happening. Many first time buyers have been shut out from the buying experience and are not even in the market to find out about value of the property they have purchased. This lack of affordable housing for many has redefined the process for them and changed how they go about it. Many are now choosing to buy their first home with other people instead of going it alone.
A new trend is starting within the housing market. For those who are looking at purchasing their first property but simply cannot afford much, moving in with roommates seems to be a viable option.
The idea of couples buying property with other couples is picking up steam and it makes quite a bit of sense, according to housing experts. Those who could only afford a little space or nothing at all are now finding a new pool of potential buying options.
Millennials are especially keen on the idea, according to research from last year. Groups of four people gaining access to the property ladder through shared expense of a mortgage has now become a thing.
Some lenders have introduced a mortgage for four product which enables all four of the group's names to be placed on the property. This is advantageous for many, but not without risks.
Housing experts still see group mortgages as an abnormal situation and urge anyone considering it to look at all the benefits and flaws before moving forward.