MPC Hikes Interest Rate and Warns of Possible Financial Woes Ahead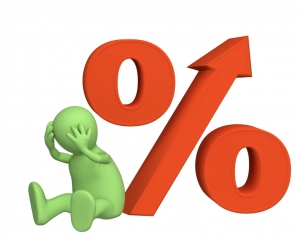 In an expected move during the Bank of England's Monetary Policy Committee (MPC) meeting on Thursday, the standard base interest rate was increased to 1.0%. It is now higher than it has been in over a decade and has risen from nearly zero at 0.1% in December to ten times higher at 1.0% in less than six months. These quick increases are likely to add further financial hardship on many household budgets already impacted from the pandemic, inflation, interrupted supply chains, and higher energy and food costs.
Homeowners are likely to be caught most unaware as many will have mortgaged on much lower interest rates than what will be available when their terms end. Their choices of being moved to their lenders standard variable rate (SVR) or remortgage will have them facing more expensive borrowing rates.
Along with the announcement of the interest rate increase, the Bank also warned that the UK economy would most likely slide into recession this year. The news put the sterling at a two year low level.
Inflation is now forecasted to reach 10%. The target rate set by the Bank is 2.0%. Reaching the target rate could result in a long and difficult hardship on households.
Borrowing is now the most expensive it has been since February 2009 with the standard base rate of the Bank set at 1.0%. Of course, as they should, lenders quickly began making changes to their lending offers. The lowest rates are now gone and new ones are offered. This is expected to put a fire under those borrowers that had been holding out and not yet taken action, such as homeowners shopping for remortgages or home buyers still able to afford a property.
It should be noted that the rate could have been much higher than the 1.0%. Three of the nine members of the MPC voted to increase the rate by 0.5% versus the settled on 0.25%. It would have pushed the base rate to 1.25%.
The next MPC meeting will be held on 16 June. Experts are divided as to whether another interest rate hike will occur or the MPC will allow their increases so far to take hold and hopefully show signs of halting the rapid growth of inflation.
There exists a small window for those that are keen to borrow at the current rates, now higher than days before, but lower than they could be in only weeks or months ahead.
Homeowners are encouraged to shop for a remortgage and determine if there are deals that would offer savings and perhaps peace of mind. Those choosing a fixed rate would lock in and not have to endure any increases for the term of their deal. This is why many homeowners will likely be shopping for long term fixed rate deals even if they are not connected to the lowest rates.
Remortgaging is expected to grow in demand as those homeowners that chose not to remortgage when their mortgage term ended and were moved to their lender's standard variable rate (SVR) begin to endure the hardship of yet another rate increase quickly put upon them. Rather than pay more than necessary, simply shopping online for a quick and easy quote could offer the ability to find financial security during a time when the economy is fast changing and not in the favor of consumers or borrowers.