MPC Increases Base Rate with Warnings of More Financial Strains to Come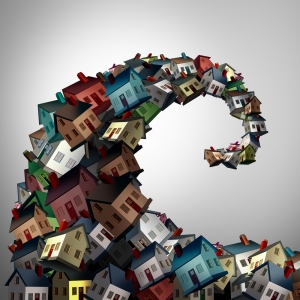 The Bank of England's Monetary Policy Committee (MPC) voted during their November meeting to raise the standard base interest rate from 2.25% to 3.00% with a 0.75% hike. The increase is the largest since 1989 and was the eighth consecutive rate rise so far in an effort to control inflation. Along with the rate hike came a warning from the Bank that the next two years could be quite difficult for the economy.
The next meeting of the MPC will be in December and another rate hike is expected from that meeting as well. The forecast for the December meeting is for a 0.5% increase.
The warning of a long-lasting recession is expected to wake up homeowners that have been sitting idle and have yet to remortgage. There are many property owners that mortgaged two years ago when the base rate was at an all-time historic low. Homeowners that come to the end of their mortgage term will be facing very different rate offers from lenders.
Those that choose not to remortgage will be moved to their lender's standard variable rate (SVR) and will be subject to each rate hike by the MPC. It is a risky rate to be moved to for those with budgets incapable of being impacted by greater expenses.
Rather than paying more than necessary, a remortgage is recommended. Interest rates found with a remortgage are typically less than a SVR. Also, with a remortgage fixed rate deal, a homeowner locks in a rate for the length of the term. With more interest rate hikes on the way, locking in a rate now could help a homeowner avoid the future rate increases and the savings could be substantial.
While the standard base rate is 3.0%, it is expected the rate will move to 5% or more. Therefore, some homeowners are choosing to take on a penalty fee to end their mortgage early to allow remortgaging with current rates rather than facing higher rates later.
Experts encourage homeowners to shop for a remortgage, no matter where they are on their current mortgage term. It will give the homeowner important information that might assist in preparing for the economic difficulties ahead. This is especially true for those homeowners that have been moved to a SVR.
Shopping for a remortgage is easy to do online. Most remortgage lenders offer quotes of possible deals after answering a few questions. Visiting a few lenders will give the homeowner quotes to compare to discover the best remortgage for their needs. A homeowner could also visit online with a remortgage broker and in one-stop shopping get numerous quotes from a variety of lenders. Brokers could also offer exclusive deals which could make the online visit well worth the effort.
The warning from the Bank is the UK could enter into the longest running recession since the Great Depression. Inflation and higher interest rates will continue to cause financial strain on household budgets and if a remortgage could offer a safety net against rising rates, it should be considered sooner rather than later.