Rightmove Reports UK Housing Market Losing Attention of Hopeful Home Buyers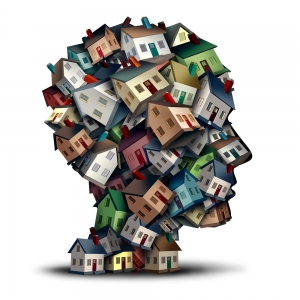 The cost of buying a home is considerably more expensive than it was this time last year. Interest rates have exponentially increased as the Bank of England's Monetary Policy Committee (MPC) hiked the standard base interest rate during each of the last eight consecutive meetings. Last December the base rate was almost zero at 0.1% and now sits at 3.0%. Of course, lenders increased their interest rates, and it has left many hopeful home buyers outside the housing market, especially first-time buyers.
The online property lister Rightmove reported that demand for property shopping fell by 20% in October in comparison to last year.
In 2021, home buyers could shop mortgage interest rate offers among an average of 2.25% for a fixed rate, but now it has increased to an average offer of over 6.0%.
The same situation is putting a strain on household budgets of homeowners. Those that found a low interest rate deal during the historically low rate held by the Bank are soon to have their fixed rates end. It could leave them facing interest rates that are unaffordable when their term ends. Shopping for a new deal is recommended, as remortgage offers are likely to be half of what would be offered if they allowed their loan to be turned over to their lender's standard variable rate (SVR).
Rightmove reported that first time buyers shopping the housing market fell by 26% in the first month of the final quarter of the year.
Interestingly, though the data revealed a drop in demand in comparison to last year's home buyers, it was still higher than the 2019 pre-pandemic demand by 4.0%.
Rightmove director, Tim Bannister, remarked, "Though many are getting on with moves, especially those with a purchase already agreed, understandably there are people who are pausing for thought.
"There's a group who are ready and able to move and are waiting on the sidelines for more financial certainty. Then there's a group of first-time buyers or people hoping to trade up who were already stretching themselves financially and may now have had their plans dashed."
He added, "The era of historically low interest rates and the buying frenzy are over, which could make way for a more normal market that opens up potential opportunities for those who were put off entering the frantic market over the past two years."
In a reaction to expectations of home buyers becoming more cautious and finding affordability an issue, home sellers are reducing their asking prices. Eight per cent of the number of unsold properties on the market were reduced in October, while only 4% were reduced the same month last year.
The holiday season is a time when the market usually sees a natural boost. With expectations of even higher interest rates and reduced asking prices, the UK housing market might very well see growth as the year closes.