UK House Price Growth Surges in December only Months before Brexit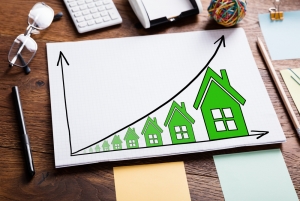 After a sluggish year for house price growth within the UK housing market, December proved once again how resilient this market was to turbulent waters and uncertainty surrounding Brexit. The last month of the year posted house price growth of 2.2% over that of November. This is the highest level of house price growth seen in almost two years, according to Halifax. A possible new optimism grew from this data, although many are seeing these figures as simply a slight rebound from the shortage of properties on sale within the market.
House prices in the three months to December increased only 1.3%. This labeled the year 2018 as the weakest for property value growth since the year 2012.
House price growth has been stifled along with the rest of the market all year. Many are pointing fingers at Brexit and all the accompanying uncertainty which has taken root. But, now after such a strong December some housing experts are considering an adjustment of their forecasts for the coming year 2019.
Jeremy Leaf, former residential chairman of the Royal Institution of Chartered Surveyors, commented on the latest economic data, saying: "At first glance, the Halifax numbers are really positive as they reflect a time of particular political uncertainty and the height of Brexit turmoil."
Leaf added: "But when taken with the recent fall in transactions, it is clear that the increase has more to do with a shortage of stock rather than a bounce-back in the market generally."
The average price of a UK property now sits at £229,729, according to Halifax.