UK House Prices Decline and Homeowners Encouraged to Shop for Remortgage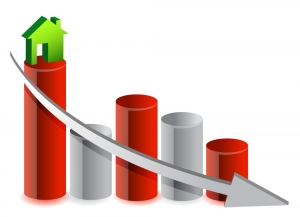 Homeowners keeping an eye on their property values will find the latest information concerning the UK housing market interesting and perhaps worrisome. Some homeowners are in danger of falling into negative equity, which is when a property value falls below the level of debt on the property. Negative equity has several consequences, one of which it will block the homeowner from being able to remortgage. This is why the latest report on the average house price dropping for the fourth consecutive month by more than £4,100 is concerning.
According to Halifax, the average house price in December was £281,272, down from £285,425 in November.
Director of Halifax, Kim Kinnaird, remarked, "As we've seen over the past few months, uncertainties about the extent to which cost of living increases will impact household bills, alongside rising interest rates, is leading to an overall slowing of the market.
"The housing market was a mixed picture in 2022. We saw rapid house price growth during the first six months, followed by a plateau in the summer before prices began to fall from September, as the impact of cost-of-living pressures, coupled with a rising rates environment, began to take effect on household finances and demand.
"These trends need to be viewed in the context of historic prices. The cost of the average home remains high, greater than it was at the start of 2022 and over 11pc more than house prices at the beginning of 2021. As we enter 2023, the housing market will continue to be impacted by the wider economic environment and, as buyers and sellers remain cautious, we expect there will be a reduction in both supply and demand overall, with house prices forecast to fall around 8pc over the course of the year."
Remortgaging is an opportunity that could be snatched away by declining property values. However, most homeowners are still capable of obtaining a new deal. It could save a substantial amount of money when it would be most helpful with ongoing inflation, rising energy costs, and higher interest rates taking more out of household budgets.
Homeowners could not only save money, but for some the simple act of remortgaging could be the difference between being able to afford or not afford their repayments.
An interest rate determines the main cost of borrowing. When rates are low, borrowing is cheaper, and when they rise, borrowing is more expensive. Many homeowners obtained their current loan when the rates were at historic lows. When their mortgage term ends, as millions will in the months ahead, the homeowners will choose between a remortgage or allowing their lender to put them onto the lender's standard variable rate (SVR).
A SVR is risky when rates are rising. Not only will a SVR typically be associated with a rate level that is higher than what is available with a remortgage, but a SVR is subject to increases. However, a homeowner, could avoid paying more by shopping for a remortgage. A new deal could not only lock in an interest rate with a fixed rate remortgage and save money from being subjected to further rate increases, but also save money from the usually higher SVR level.
Some homeowners aren't waiting until their term ends to decide to remortgage. Instead, they are taking on penalty fees to end their term early rather than face possibly higher interest rates when their mortgage term was due to end.
It is easy to obtain quotes on a remortgage to determine what offers and savings could be possible. Visiting the website of a remortgage lender could have a quote ready to review in a matter of minutes. Going to other lender sites could provide quotes to compare to discover the best remortgage deal.
Homeowners should also consider visiting the website of a remortgage broker as it is a one-stop shopping opportunity to possibly gather numerous quotes from a variety of lenders. There could also be broker exclusive deals from lenders not offered directly to borrowers.
The coming year could wipe some value from homes as the housing market loses steam, and interest rates are due to rise which will make repayments more expensive for those not protected by a fixed rate, but there are savings to be found for those looking to avoid paying more than necessary. A few minutes spent online shopping for a remortgage could offer savings that might make all the difference for those struggling in the economic environment forecasted for the year ahead.