UK Housing Market Asking Prices Increase Across All UK Regions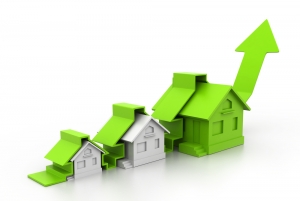 For the first time since 2007, asking prices in the UK housing market rose for all regions. Buyer demand is still strongly outpacing supply and that is pushing housing prices upward. Month after month since the pandemic began, buyers have been seeking homes with more space and those that fill the unique needs for their pandemic lifestyles. This has helped push up asking prices in areas often less popular such as those in the rural countryside.
The countryside has experienced more interest as home buyers seek out properties with more space, large gardens and surrounding green spaces. Homes that offer space to work privately from home, for children to study, and for other specific desires such as getting fit or areas for hobbies are the most desired.
Rightmove, a real estate listing website, reported that asking prices increased by 1.8% in September. It is the largest increase since 2015 and put the average asking price to a record high of £344,445.
Low interest rates are also helping to drive the demand from house buyers. Some mortgages have been offered at below 1%. There are forecasts that the Bank of England's Monetary Policy Committee (MPC) will choose to increase the current historically low standard base rate of 0.1% by the end of this year or early next year.
Tim Bannister, director of property data for Rightmove, remarked on the recent report saying, "The stock shortages started after the first lockdown and they look set to continue with the underlying housing market fundamentals remaining strong, and an additional incentive to buy and fix your mortgage interest rate before a widely expected rate rise."
To take advantage of cheap borrowing, home buyers will likely stay busy in the housing market, especially with the continued impact from the global pandemic.