UK Housing Market Sees another Hike in Value of Properties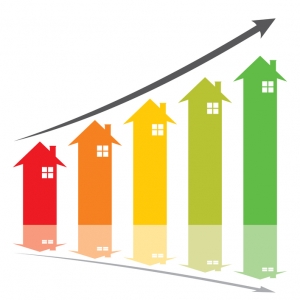 The UK housing market continues to look healthier as the months pass, according to the latest data supplied by the Office for National Statistics. House prices have increased again at a stellar rate during the month of January. A yearly rise of almost 10% was posted during the first month of the New Year. The average UK house price now sits at a record £292,000. Consumer prices however increased only 0.3% during the month of February.
London property prices sit alone atop the list of property prices in the UK at an average cost of £551,000.
First time property purchasers are still up against it in regard to being able to afford houses. According to the ONS, a first timer will pay almost 8% more for a property now compared with a year ago.
Jeremy Leaf, north London estate agent commented on the latest stimulus to the housing market, saying: "It reflects a busy period for the housing market, as investors hurried through purchases ahead of the stamp duty hike in April."
Leaf added: "While this is not that surprising, what is of more interest is the increase in properties coming to market, as detailed in yesterday's Rightmove report, and whether this will feed through to a softening in prices in coming months."
The remortgage sector has slowed slightly since the beginning of the year prompting more rumours of an indefinite hold on a possible rate hike. Many house owners have now been thrown into the familiar position of sitting on the fence.