UK Housing Market Shows Signs of Change as Buyers Begin Their Exit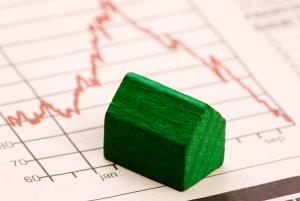 The UK housing market is showing signs of cooling off. Since the pandemic's race for space buying frenzy, house prices have been growing. There were numerous times last year when the average house price would reach a new high with each month. The rising house prices have helped push home values to quick gains, but it also pushed many hopeful home buyers out of the market. As interest rates began to rise, the combination of both the rate hikes as well as high priced properties was expected to put off buyers.
However, even though the interest rates began to rise in December of last year, much of 2022 the housing market kept the attention of buyers. It was thought that most were choosing to take the opportunity to buy before rates rose even higher. Now signs are showing a shift in the market.
When the Bank of England's Monetary Policy Committee (MPC) first increased the long-standing pandemic caused historic low rate of 0.1% in December 2021, buyers rushed to gain a low interest rate mortgage before rates rose further. There have been increases during each of the last eight consecutive meetings, including the December 2021 meeting. The base rate is now at 3.0%.
The forecast for further rate hikes is for the base rate to reach 5.0% next year to control growing inflation. While there are still more rate hikes to go before the current rate almost doubles, it appears that home buyers are backing away. Research has shown that renting is cheaper than paying on a mortgage, which hasn't been the case in over a decade. Still, the dream to own a home is strong in the UK, but affordability could be an issue for many hopefuls.
According to a recent report from Zoopla, home sellers are now accepting offers below asking prices. This is different from just months before, and especially one year ago when many buyers would be interested in the same property and forced to offer above asking prices to beat out rivals for the home.
Zoopla, a property listing website, reported 44% less demand and the average purchase price is 3% lower the average of asking prices. There is an expectation that further declines in purchasing prices will develop through next year.
The data also revealed that sales have declined by 50% in areas where before they were selling hotspots. Other areas have fallen less, and those areas have tended to be where properties are more affordable.
With less buyer demand, the supply of properties is growing. Supply has grown 40% from the level of properties available this same time last year. Yet it is still lower than the supply available prior to the pandemic.
The outlook of the economy is for further interest rate increases by the MPC and inflation to continue growing into next year. Household budgets will be strained by energy costs and while mortgage costs are rising, so are rental costs.
Consumers are expected to seek out ways to save money and where they spend each pound will be deliberate and well thought through. It is yet to be determined whether declining house prices and an increase in available properties on the market will help bring buyers back, or the UK housing market is on the path to a natural correction and what could seem like a deep decline is actually a true normal replacing an unprecedented buying event caused by a pandemic.
Zoopla executive director, Richard Donnell, executive director remarked, "The housing market is adjusting to a reset in the level of mortgage rates but the likelihood of double-digit house price falls at a UK level remains low.
"While the outlook for house prices is weak, we see a shift to more needs-driven motivations to move in 2023 and beyond which will support sales volumes.
"Ongoing pandemic impacts, increased labour market flexibility plus more retirement will continue to encourage moves. Cost of living pressures will compound these trends encouraging homeowners to consider their next move."