Warnings of Financial Storm Ahead is Motivation to Consider a Remortgage Now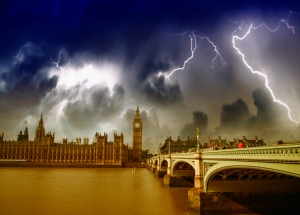 The Bank of England has increased the standard base interest rate from 0.1% to 1.0% during its last four consecutive meetings. This is a ten-fold increase in less than six months. In simple terms, borrowing is now ten times more expensive than it was this time last year. Considering that inflation is taking more money from household budgets with fuel, energy, food, and other goods costing more, higher interest rates are another financial burden.
Yet, it is a burden that is necessary to curb inflation. The target rate set by the Bank is 2.0%. The forecast for inflation is now at 10%. There are many factors involved that make this forecast difficult to pinpoint due to unknowns associated with the continued impact of the pandemic, the war in Ukraine, and interruptions to supply chains. Many experts do not believe that inflation will deflate quickly due to the current interest rate increases and it may take many more.
The current rate increases as well as the possibility of more increases should put homeowners on notice. Perhaps at no time since the economic crisis in the late 2000's has it been more important for those with large loans, such as a mortgage, to take review of their current situation and prepare to make the most of opportunities available. Doing so could make the difference in weathering the storm ahead.
Homeowners usually have options available to them when their current mortgage term ends. They can allow their mortgage to be moved to the lender's standard variable rate (SVR), or they can remortgage. In the past decade or so it might have been acceptable to allow one's mortgage to be associated with a SVR. Due to the nature of this type of loan, because it fluctuates as the lender responds to the Bank of England's rate changes, of which have been declines quite often, it might not have been of concern.
Now it is of concern. With each and every increase, a mortgage on a SVR is risky. Repayment increases come quickly and the only way to escape the situation is to remortgage. This pushes a homeowner into a stressful situation of rushing to remortgage before they continue to pay more than necessary.
It should be noted that even when SVRs might feel acceptable to a household budget, it doesn't mean there aren't savings slipping away. When the standard base rate of the Bank was at its 300 year historic low, many SVRs were double or more the interest rate offered with a remortgage.
Not only could a remortgage offer a lower interest rate for the homeowner, but it could offer peace of mind. With a fixed rate remortgage, locking in the interest rate for the term of the deal means the homeowner escapes other increases.
Experts are encouraging all homeowners to shop for a remortgage no matter where they sit in the term of their current mortgage. Whether they have entered into it only six months ago or a year, have already had their term end, or they are nearing its expiration, it is time to shop now.
By shopping for quotes, especially online where it is quick and easy, a homeowner could discover what deals are available. Going lender to lender online will offer quotes in hand to review and compare. Shopping with a remortgage broker will offer quotes from many lenders at one time, and could even reveal an exclusive deal from a lender not offered directly. There is no commitment to get quotes, and the information could hold the answer to many homeowners' worries.
Some homeowners could face a penalty fee in ending their mortgage deal early to remortgage. The fee should be taken into consideration along with any savings to reveal the true cost or savings of the deal. Of course, the interest rates to choose from now could be much different than the choices available when the homeowner's term ends. That risk is why some homeowners are choosing to pay a penalty fee and remortgage early.
Paying a penalty to end a mortgage deal is not the right choice for every homeowner. Yet, those nearing the end of their term or sitting with their lender's SVR have little to consider due to the opportunity a remortgage could offer as forecasts call for more and more tightening of household budgets ahead. A remortgage could be protection for those attempting to take on the storm with preparation.