Cheltenham & Gloucester
History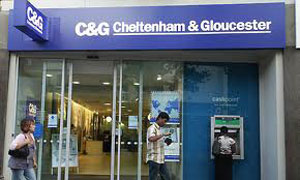 Cheltenham & Gloucester Bank was first founded in 1850 as the Cheltenham & Gloucestershire Permanent Mutual Benefit Building and Investment Association. For the next 8 decades, this organization expanded opening over 100 branches and during the 1980s they acquired several other smaller building societies. In 1997, C&G agreed to be taken over by the Lloyds Bank.
During 2009, Lloyds announced that it would be closing all the 160 Cheltenham & Gloucester's branches, but that decision was then later renounced. Today C&G mortgages are designed, marketed, sold and administered by Cheltenham & Gloucester plc, and Lloyds TSB Bank is the lender for the C&G mortgages, while the savings customers are serviced through C&G Savings which is a division of Lloyds TSB Bank plc.
C&G is now the UK's third largest mortgage lender with its headquarters located in Barnwood, Gloucester, and Gloucestershire. As well as mortgages, C&G offers 24 hour banking and with over 150 years of mortgage experience, they offer mortgages that are tailored to suit most clients needs.
Remortgages offered through Cheltenham & Gloucester
In addition to the specific information that will be taken into account in agreeing additional borrowing, such as the value of your property and your income, there are some other general points that currently apply to all C&G mortgages which you need to know about:
You cannot change the term over which your new loan is due to run within six months of it starting.
You can apply to borrow more on your mortgage so long as it's been at least six months since you took out or last borrowed on your mortgage.
C&G offers competitive rates and several remortgage options including:
Fixed rate - choose to fix your mortgage rate for an agreed period. The terms are available from 2 to 7 years. After the fixed period has ended the mortgage will revert to the C&G's standard variable rate. Early repayment charges apply.
Tracker - these mortgages vary according to the Bank of England base rate. The tracker rate is set at a % above the Bank of England base rate. This overall rate will depend upon on the size of your loan. The tracker rate applies for four years of the mortgage then it goes back to the C&G's standard variable rate.
Offset mortgage - this gives you the opportunity to cut the cost of your mortgage and the potential to pay it off earlier. Your mortgage works with your Lloyds TSB current and savings account, or alongside a C&G savings account. The money in your accounts contributes to reducing your mortgage balance and you only pay interest on the difference between the two.
Standard Variable Rate - the interest on this product is set at a % above the Bank of England base rate. This means it will vary according if rates rise or fall. There are no early repayment charges and no valuation fees.
Additional Loans - generally you can take out a loan at the C&G's standard variable rate. Loans can be taken for £5000 to £24,999. For loans higher than this you can apply for a homeowner loan or to re-mortgage.
Buy to Let - to work out how much they can lend you C&G will take into account 50% of the rental income of the property sought.
Free legal work is available for borrowing between £5,000 and £999,999 for a standard remortgage; plus a fixed-price service for the most common extra legal work needed on non-standard remortgages. Find out more about free legal work and fixed-price services on the fees and charges page.
An Early Repayment Charge applies during the tracker period. This means you will face a charge if you repay or change more than 10% of the loan's capital balance (as at 1 January) in any one year. You can repay up to 10% each year without the charge applying (unless you go on to repay or change the rest of the loan within the next six months).