Halifax PLC
History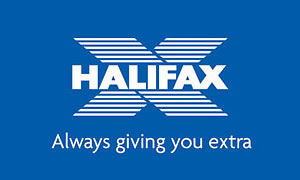 Halifax was founded in the town of Halifax in Yorkshire in 1853, and started out life as a building society. In the 160 years since then it has gone on to become a huge bank in the UK, and is now owned by Bank of Scotland (not to be confused with Royal Bank of Scotland) who also own Lloyds TSB.
Halifax was formed as the Halifax Permanent Benefit Building and Investment Society, with the intention of helping local people in the Halifax area. The concept was very simple. Savers would deposit money and receive interest on it, whilst that money would then be lent to other customers to buy their homes, and they would pay interest on their loans.
Halifax became the largest building society in the UK by the early 1900s, and opened offices in London by 1924 and Scotland by 1928. In 1928 the building society merged with the second largest building society at the time, the Halifax Equitable Building Society and became Halifax Building society. At the time of the merger it was the largest building society in the UK, by five times.The building society continued to grow, and the in the 1980s Halifax was able to take advantage of new rules governing building societies and reach out into other markets. The group took on an estate agents to encourage mortgage business, and also started offering customers credit cards and current accounts.
In 1995 Halifax Building society merged with Leeds Permanent Building Society, and demutualised, converting to Halifax PLC. It was floated on the stock exchange in 1997 and 7.5million of the Halifax customers became shareholders.

Halifax became the fifth largest bank when it became a PLC, and in 2001 agreed an £11billion merger deal with Bank of Scotland to become HBOS. Through various restructuring processes the Halifax name is no longer a legal entity, but remains a strong trading name on the face of all mortgages and UK branches.
HBOS was then acquired by the Lloyds Banking Group in 2009, and the Halifax brand is now owned entirely by the Lloyds banking group.
Remortgages offered through Halifax
Despite the various takeovers, mergers and buyouts, the Halifax brand has been synonymous with mortgage lending in the UK for over 150 years, and is one of the most trusted mortgage brands. As one of the biggest providers of mortgages and remortgage in the UK, you would be joining a growing number of customers who have bought their homes with the Halifax brand.
Halifax Fixed Rate Remortgage
Halifax break their customers down into two sections. Customers who need to borrow more than 75% of the value of their home, and those who need to borrow less than 75% of the value of their home.The bank currently offer customers 2, 3 or 4 year fixed rate remortgage deals, with product fees ranging from nothing to £995.
Halifax Tracker Rate Remortgage
Again customers are offered different packages based on the LTV ratio they need. Customers who need less than 60% LTV can take advantages of a 2 year tracker deal, whilst customers who need to borrow more than 60% of their homes value can take out an 18month tracker deal. Fees vary from £995 to £1495.
Halifax also offer a range of 2 year buy to let remortgage deals for customers who need to borrow up to 75% of their homes value, with product fees of £995.

Halifax do not offer offset remortgages as this time.