Lloyds TSB
History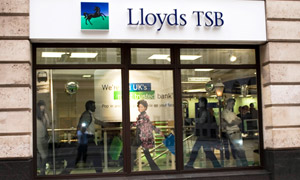 The Lloyds Banking Group, formed in January 2009, is a leading UK-based financial services group that has seen a few changes and mergers since it first began as the Lloyds Bank PLC in 1765. Now the largest retail bank serving over 30 million personal and corporate customers, Lloyds is the largest provider of personal loans in the UK, and is the leading credit card issuer. Through its retail operations, they also provide one in four residential mortgages in the country. Despite its strong positioning in the UK economy, Lloyds did not survive the recent economic downturn unscathed. It was recently announced that it has only just started to bounce back into the profit zone as the first half of 2010 earnings were reported.
This profit is only starting to reflect with positive numbers after the massive British government bailout occurred in 2009, allowing a 41% government ownership over the once financially independent banking institution. The group's troubles began during a risky take-over bid of the Halifax Bank of Scotland which came along with high-risk investments in the property sector. But despite the recent downturns, the government is predicting that this bailout will end up being profitable and provide a positive outcome. In the meantime, Lloyds Banking Group continues to strive toward their goal of being the best financial services provider in the UK, and with one in three people banking with them; they are well on their way.
The people behind Lloyds have made strong commitments to their over 30 million customers. They have multiple brands including Lloyds TSB and Halifax, as well as the Bank of Scotland. They believe in efficiencies of operations, and have the largest branch network in the UK. For their customers they pledge the best in convenience, choice and expertise and their purpose is to build deep, lasting relationships helping them to achieve what's important for them.
Remortgages offered through Lloyds TSB
Through the Lloyds TSB a full range of personal banking services are offered including several options for Remortgages. The first option - the Remortgage Fixed Rate allows you to choose from a 2-year, a 3-year, or a 5-year fixed rate term. This remortgage offers an interest rate that will not change for the duration of the term that you choose. So if the bank rates fluctuate in either direction during that time, your mortgage payment will not be affected.
The second option - the Remortgage Tracker can be set up for a 2-year term, or a Full-term or a Full-term tracker with no early repayment charges. These Tracker mortgage rates fluctuate along with the Bank of England base rate, so your monthly payments can increase or decrease depending on the economic indicators that help to set the Bank of England rate.
Lloyds offers several client incentives which are based on a few variables. If you have a Lloyds TSB current account and have £1,000 or more a month deposited, you will receive a preferential mortgage rate. Those rates vary depending on the term chosen and the amount of loan to ratio you are requesting. An Interest Only remortgage option is also available.
They are also offering:
Free legal work if you're borrowing between £5,000 and £999,999 on a standard remortgage
A fixed-price service for the most common extra legal work needed if it is a non-standard remortgage
No property valuation fee for mortgages up to £1million
Apply to borrow more at the same time as switching your mortgage, up to a total mortgage of 80% of your home's value
There are a few requirements if you wish to pursue a remortgage with Lloyds such as:
You must have owned the property for at least 6 months
Proof of income
Details of other financial commitments
Your age - you must be at least 18 and the mortgage must end before you turn 75
Previous financial history - loans, credit etc.
Current value of your property