Nationwide
History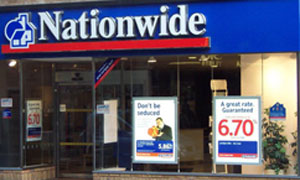 Nationwide Building Society stands tall as the largest British building society in the world today with a very solid and strong history. It is the largest building society that did not convert to a bank during the surge of demutualizations that were popular in the late 80's to late 90's.
Nationwide started out as several different entities, including Wiltshire which was founded in 1846 and Northampton which was founding in 1848. Over the next century, there were indeed over a hundred mergers that allowed the society to gain in size and capacity. The Co-operative Permanent Building Society was the official name, until it was changed to Nationwide Building Society in 1970. Shortly thereafter, there was an acquisition of the Marlborough Building Society in 1975.
The largest merger and most notable, was the one between Nationwide and the Anglia Building Society which occurred in 1987. More recent mergers and acquisitions include the merger with Portman Building Society, 2007, the acquisition of Cheshire and Derbyshire, 2008, the Dunfermline Building Society, 2009; all of which still operate as separate trading entities of the Nationwide Group.
Other notable history milestones for Nationwide include:
1991: launching the first Visa/Delta debit cards from a building society.
1997: launching of UKÕs first internet banking service.
2001: surviving another close call of being converted from a society to a bank.
2004: overtaking the clearing bank of Barclays to become the fourth largest mortgage lender in the UK.
2009: opening a direct savings branch in Dublin Ireland, called Nationwide UK (Ireland).
2009: charging fees for VISA transactions that were previously free.
The Nationwide Building Society, with their head office in Swindon, Wiltshire, provides financial services both directly, and through approximately 750 branches and 200 agencies. It is also a major provider of mortgage loans and savings, as well as personal and commercial lending.
Remortgages offered through Nationwide
Nationwide offers several additional features to compliment their remortgage schemes. They provide a whole range of remortgages including fixed, variable and tracker mortgages.
Whether you are an existing customer or a new client looking at refinancing there are several features you should be aware of including:
Protector Mortgage: Nationwide offers free mortgage payment protection insurance for main FlexAccount clients on the 2 year fixed rate mortgage. And there is also an option to obtain £300 cashback for existing mortgage customers when moving homes or refinancing.
Flexible Mortgage: this includes no early repayment charges, unlimited overpayments, and underpayments allowed (with conditions), there are reduced upfront costs, and the term is for a 5 year tracker, with a deposit of at least 15%. (5% for existing customers).
Free legal and valuation fees: exclusively for FlexAccount clients you receive these services free and the option of a 3 year fixed or 3 year tracker. Or you can also obtain £300 cashback for existing mortgage customers when either moving home or refinancing.
High ratio mortgage of 85-90%: exclusively for the 2 year tracker mortgage for FlexAccount clients with the same conditions of the first two features listed.
Some conditions apply for these features including qualifying for a FlexAccount and mortgage underwriting criteria. If you have an existing FlexAccount you must also have a Nationwide Visa debit card and follow several other account requirements.
Nationwide offers fixed rate and tracker rate remortgages, both of which will revert to the Base Mortgage Rate or Standard Mortgage Rate after the deal period.
Fixed Rate Mortgages:
Fixed interest rate, fixed payments - you always know exactly what each monthly payent is.
Your interest remains the same for an agreed period, and you pay exactly the same per month until the end of your fixed period. If the Bank of England base rate increases, you will still pay the same fixed rate for the deal period. Similarly if the Bank of England base rate falls you won't see the benefit. If you're prepared to take the chance of rates falling, you might want to consider a tracker rate deal.
You can make overpayments of up to £500 per month with no penalty.
Changing your mortgage before the end of your fixed term will incur an early repayment charge.
Tracker Rate Mortgages:
Payments will go up and down in line with the Bank of England base rate. Your interest rate is a fixed percentage above the Bank of England base rate. This means your payments will go up and down in line with the rate changes. If the Bank of England base rate is 0.00% or less during the tracker period, the rate you pay will be 0.00% plus the agreed set percentage above the base rate. This is known as the tracker floor.
You can make overpayments of up £500 per month on some, unlimited on others.
Mid way you can opt to switch into one of the fixed rates at any point during your deal with no early repayment charge.