Natwest
History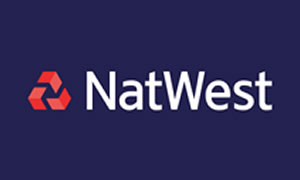 The National Westminster Bank was formed in 1968 and employs over 30,000 people. It's the largest retail and commercial bank in Britain and since 2000 has been part of the Royal Bank of Scotland Group. The bank was formed with the merging of the National Provincial Bank and the Westminster bank, both which dated back to the 1830s, and is widely regarded as one of the big four banks in the UK, along with Barclays, Lloyds TSB and the Midland Bank, which is now better known as HSBC.

You can trace the banks initial roots back to 1650, when Smiths of Nottingham was formed. In the 300 years after that the bank went through many changes and mergers before becoming the NatWest brand we know today in 1968, and the bank began trading under the name in 1970.

NatWest took over the running of the National Provincial, Westminster and the District Bank but left Coutts & Co. to operate on its own.

NatWest was also part of the group who launched MasterCard, under the now Access Credit Card in 1972, in a joint venture with Lloyds, HSBC and RBS. Along with RBS and HSBC they also launched Maestro, which was initially called the Switch debit card in 1988.

In 1980 the bank underwent rigorous expansion into a number of other markets, including home loans, children's accounts, overdrafts and even built the tallest building in London, the National Westminster Tower, which is now known as Tower 42. The footprint of the building forms the shape of the NatWest logo.

NatWest, as part of the Royal Bank of Scotland Group ran into trouble in 2008 when mismanagement and investment in toxic loans led to the bank finding itself in serious financial trouble. As a result, the UK government issued a bailout package which now sees it own over half of the bank. Despite its troubles, the RBS group remains the largest banking group in the world by assets held, and with its government backing is an entirely safe place to take out a mortgage or remortgage.
NatWest also has a strong involvement with cricket in England, sponsoring the 1999 world cup, varies one day series held in this country, and getting involved with local cricket clubs. They give their staff paid days out to help paint sightscreens and fencing at cricket clubs in need of TLC.
Remortgages offered through NatWest
When it comes to deciding which bank to trust when you remortgage your home, you can't go wrong with NatWest. Proud owners of 18 of the last 21 years Best Mortgage Provider awards, the bank can also point to the last three 'Best First time Buyer Mortgage Lender' awards sitting in the trophy cabinet.

When you remortgage with NatWest they vow to make the whole process as simple as possible for you. You get one named mortgage advisor to help you through the whole process from beginning to end, and you're also able to meet with the advisor, as well as speaking to them on the phone.

If you bank with NatWest, they also endeavour not to ask you any questions they already have the answers to on their system, and will keep you up to date with the whole process by text, or by calling you.
Fixed rate NatWest remortgages
NatWest offer a number of different 2 and 5 year fixed rate remortgage deals, for customers looking for a remortgage with up to 90% LTV. Their product fees range from free to £1000 for a residential remortgage, and £2000 for a buy to let remortgage. Customers who bank with NatWest can get preferential fixed rate deals.
Tracker NatWest remortgages
NatWest also offer customers a range of two year tracker remortgage options, again with product fees ranging from free to £2000, and for customers looking for a remortgage with a LTV up to 90%.
Offset flexible NatWest remortgage
NatWest also offer a range of offset remortgage options, allowing you as the customer to offset the money you have in your current account and your savings account against the balance of your mortgage.

Customers with a £100,000 mortgage, but £20,000 in their savings account and £5,000 in their current account would only pay interest on £75,000 of their mortgage.