Santander UK PLC
History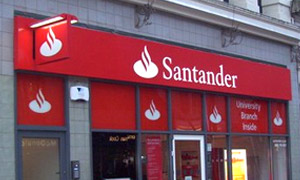 Grupo Santander, the largest bank in the Eurozone and one of the largest banks in the world originated in Santander, Spain as the result of a merger in 1999 between Banco Santander (founded in 1857) and the Banco Central Hispano (founded in 1991 with a merger with Banco Central, 1919) and the Banco Hispanoamericano (founded 1900).
Santander is a retail and commercial bank with operations now in over 50 countries. At the end of 2008, it had over ERU 1,168 in managed funds. And as of January 2009, it has offered over 90 million customers, more than 13, 650 branches - more than any other international bank - and over 180,000 employees. It is the largest financial group in Spain and Latin America. In 2008, Santander registered €8,876 million in net attributable profit, an increase of 9% from the previous year excluding capital gains.
In 2004, Santander purchased Abbey National PLC, whose roots go back to 1849 when the National Freehold Land and Building Society had been established. When National Freehold Land and Building Society merged with the Abbey National Building Society in 1944, they became the Abbey National. Some of the key historical milestones of Abbey included being the first building society to become a plc in 1989, to gaining almost 3 million customers when they merged with the National and Provincial Building Society. In 2008, Abbey acquired Bradford & Bingley and later that year they also acquired Alliance & Leicester. In January 2010, Abbey and Bradford & Bingley savings business both became known as Santander. This combination made them the 3rd largest deposit taker and the 2nd largest mortgage lender in the UK with five key business divisions - retail distribution, corporate and commercial banking, private banking, global banking, and markets and intermediaries.
The main offices are in London and they employ over 25,000 staff in branches across the UK. There are over 1,300 branches and about 4,500 bank machines that service over 25 million customers. Retail services include mortgages and savings, bank accounts, loans and credit cards, long term investments including pensions and unit trusts, life, critical illness, and unemployment cover and household insurance. They also offer offshore banking for expatriates.
Remortgages offered through Santander
Existing mortgage customers can take advantage of the remortgage options offered through Santander. Following their remortgage checklist, clients can determine which option is best. There are no surveys required, no solicitors, no forms, and no signatures are even required. It can take as little as a couple of days to remortgage a property.
One of the remortgage options is the Flexible Rate Plus - tracker. With this option you can structure your repayments as you like; you can even make additional payments or take a payment break if needed. Early payment, so that you can end your mortgage obligations early is also an option. The interest rate follows the Bank of England Base Rate, so that if that rate rises or falls, your payment changes accordingly.
The next option for remortgaging is the Fixed Rate Mortgage. This mortgage offers a interest rate that is predetermined and does not change for the term of the loan. You can cap the rate, so that it will not exceed that amount, and if the rates decrease, so can your payments. This does allow a certain amount of flexibility.
The other option is the Variable Rate Tracker mortgage. This option is designed specifically for people who would like to have lower payments for their mortgages.
Flexible Offset Mortgages is one more option. This is designed for people who want more flexibility with their payments. You can make extra overpayments and you can also offset your savings against your mortgage and reduce the interest. You can reduce the monthly repayments with the flexible rate and it can go for a longer term. You can also borrow additional money in the future and there are also benefit packages available that include free basic valuations and cash back.